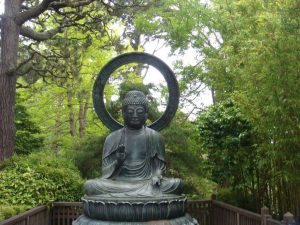 What is mindfulness?
Mindfulness is giving complete, open, and nonjudgmental attention to the present moment. The breath is one of the tools we can use to remind ourselves to live in the here-and-now. From a scientific perspective, emerging research suggests that mindfulness meditation creates neurological pathways in areas of the brain that are responsible for attention, emotion, and self-awareness. With its roots in Buddhism nearly 2,500 years ago, mindfulness meditation practices can support our ability to become more mindful in our daily lives, work, play, and relationships.
My experience with mindfulness
I began teaching in the elementary classroom in the fall of 2000. After only three years of teaching, I realized that my lack of work-life balance was taking a toll on my mind, body, and spirit.  I loved teaching and did not want to burn out so I decided that I had to find some form of physical exercise that would help me reduce my stress and promote a healthier lifestyle.
In 2003, I began practicing yoga. I was a student of many wonderful teachers in the Denver/Boulder area, and I practiced a variety of styles: Bikram, Vinyasa, Anusara, Kundalini, Hatha, Ashtanga, Core Power. Initially, I practiced for the physical benefits. I challenged myself by committing to two 60-day challenges (practicing 6 days a week for 10 weeks in a row). After about a year, I recall one of my yoga teachers mentioning that asanas (or postures) were traditionally intended to prepare the body for meditation. This was an ah-ha moment for me: The physical workout was not the end but rather a means to another practice? This realization piqued my interest in meditation, and I began taking classes in Vipassana meditation.
In 2005, I became a certified yoga teacher through the Mount Madonna Institute Classical Ashtanga yoga teacher training program. The learning and teaching of meditation was a central part of this training. In 2006, I moved to Mount Madonna Center to teach fourth grade at Mount Madonna School. I lived at Mount Madonna for five years during which I taught, practiced, and learned more about meditation, yoga, and living in community. Over the course of five years in the Santa Cruz, CA area, I participated—as both a teacher and a student—in many yoga and meditation retreats and studied with revered teachers such as Baba Hari Dass, Adyashanti, Noah Maze, Judith Hanson Lasater, Kelly Blaser, and S.N. Goenka.
After leaving Mount Madonna to pursue my doctorate at the University of Michigan in Ann Arbor, I continued to practice as well as teach yoga and meditation. While in Ann Arbor, I studied Ashtanga with Angela Jamison for two years. I taught yoga at the university in their U-Move Fitness program and offered free yoga classes for fellow doctoral students in the School of Education.
Now, as the Executive Director of Teaching & Learning at Summers-Knoll School, I continue to practice yoga and mindfulness on my own. I also often participate and serve as a facilitator in The Core Collaborative's annual MindFuelED conference.