Summers-Knoll is Ann Arbor's premier project-based and place-based learning school. When people ask me what "project-based" means, I begin by defining the word "project." A project is an undertaking, often defined by a specific end-goal or purpose, that involves a collaborative journey from point A to point B. The result of a project is usually some kind of creation or product. The journey taken during each project depends upon the paths forged in the process of building knowledge, asking questions, problem solving, overcoming obstacles, leveraging various resources, and arriving at the destination.
SK teachers draw upon content area standards as well as their assessment of individual students to design four main projects each year that engage students in learning through inquiry and learning through doing. Lending themselves naturally to the integration of content areas, the arts and humanities are woven throughout projects as either the main foci or as a mediums through which students express and communicate their learning.
In addition to the myriad ways homeroom teachers integrate the arts into project-based learning (e.g., visual art, music, film, poetry, performance), SK students' schedules also include formal instruction in visual arts, music, French, and Latin. SK's art, music and language teachers also approach teaching and learning through a multimodal lens so, for example, in French and/or Latin class, students learn about ancient myths, traditional folk dances, and classical theatre. In art, students learn about synesthesia and the relationship between the five senses in the artistic process. In music, students compose using pencil and paper scores and instruments as well as digital software.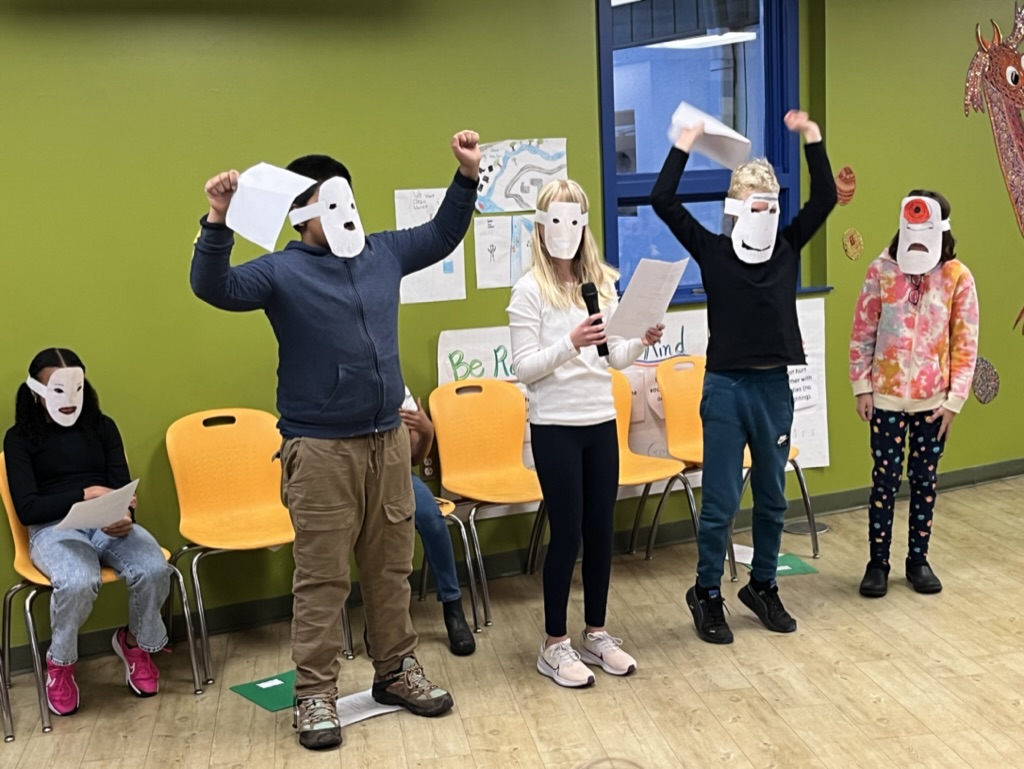 Not only do the arts and humanities stimulate the growth of neural networks and expand a learner's repertoire of communicative tools, they deepen students' awareness and appreciation of cultural and linguistic diversity; they provide entry points for understanding global history and cultures; they broaden students' opportunities for intercultural communication and recognition of varied ways of knowing, being, and expressing; and they increase students' attention to aesthetics and beauty in the formed as well as natural world.
"So we need to cultivate students' 'inner eyes,' and this means carefully crafted instruction in the arts and humanities – appropriate to the child's age and developmental level – that will bring students in contact with issues of gender, race, ethnicity, and cross-cultural experience and understanding. This artistic instruction can and should be linked to the citizen-of-the-world instruction, since works of art are frequently an invaluable way of beginning to understand the achievements and sufferings of a culture different from one's own (Nussbaum, 201, p.108).
Additionally, when learners cultivate a habit of regular practice with a language, an instrument, or an art form, they learn how to persevere, experiment, fail, take risks, and get better at something over time. Ideally, they learn to enjoy the creative process, regardless of the product or how an audience receives their work.
Granted, I'm biased. I grew up in a family with a father who was a professional actor, a professor of theatre, and a director. I started performing at the age of 5. I cannot imagine my life without the influence of the arts. But my support of, and advocacy for, the arts in schools does not just come from my own personal experience. Decades of research, sound pedagogical theories, and evidence from my own integration of the arts in my teaching have affirmed the importance of the arts and humanities in a child's education.
Witnessing SK students in their creative processes, and witnessing the pride they feel when sharing a piece of artwork or performing for an audience of their peers and parents, the educational benefits of the arts and humanities is affirmed yet again. If project- and place-based learning provides the framework for instruction at SK, the arts and humanities provide the colors, textures, flavors, sounds, music, light, and language with which students formulate, create, and express meaning.